Do you want your rental property to stand out against the competition? One great way to appeal to prospective residents is to stage it with furniture and décor. Staging for rent allows potential residents to imagine themselves living in the space. This is a useful strategy for units that may be harder to lease in this cases hire a professional property manager that will help you. Property staging also makes it easier to charge a higher monthly rent.
While staging to sell can be an involved process, staging for rent doesn't have to be complicated! It is best to stick to a simple process, especially if you expect a quick turnover. Here are five simple tips to make your rental property staging easy and effective!
1. Keep it Clean and Fresh
Make sure the unit is clean before showing it to new residents. People do not want to see evidence of former residents. A clean home will appeal to the best residents who will, in turn, respect your space as if it is their own.
Polish up doorknobs and handles, deep clean the bathrooms and kitchen, and eliminate stubborn marks on the walls with a fresh coat of paint. Freshen up the air before a showing by leaving the windows open for a little bit (but close them before anyone shows up). Make sure there are no strange or unpleasant odors anywhere on the property. A lightly scented candle in the bathroom is a nice touch.
2. Use Appropriate Colors
Wall color is essential, especially when you're trying to attract new residents. The right color will go unnoticed, while the wrong color will stick out like a sore thumb. You don't want a flashy wall color to distract residents from the rest of the space. On the other hand, stay away from white except for in the kitchen. White is a standard color for painting rentals, but residents don't usually like it because it feels sterile.
Your best option is to go with a neutral color or monochromatic palette. Your future residents have their furniture and decorations that will need to blend into space. You can add color back into the room with staged accessories like throw pillows or a bouquet for added interest.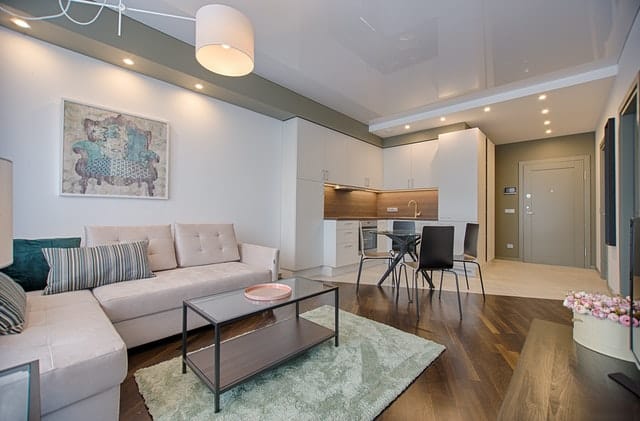 3. Lighten up the Rooms
Nobody likes living in a cave! When staging your rental property, maximize the amount of light in every room. Open all the curtains, and let in as much natural light as you can. For showings, make sure all the lights are turned on, so the unit is bright and inviting.
If your unit doesn't get a lot of natural light, try placing a mirror across the window. This will reflect more light into the room and create the illusion of a larger space.
4. Rearrange your Furniture
When staging for rent, use furniture to display each room's size and purpose. A room without furniture is hard to read, and multiple rooms without furniture will blend in prospective residents' minds.
People will misjudge the size of an empty room, even when they are standing in it. A couple of well-placed pieces of furniture will allow future residents to visualize the space accurately. Be careful though, using too much furniture or oversized pieces will make the room feel smaller than it is.
Use furniture to define the purpose of each room in the unit. Bedrooms should each have a bed. Put a table and chairs in the dining area. Couch goes into the living room, and so forth. Does your property have a bonus room? Add a desk and chair to show young professionals it can be used as a home office. Alternatively, you can appeal to growing families by staging the room with a crib.
This is easy if your unit comes furnished, but you don't need to go overboard with buying furniture for an unfurnished rental unit. A bed for staging your rental can be as simple as an inflatable mattress on top of milk crates with a stylish comforter on top. Look for inexpensive items at garage sales and thrift stores. Keep in mind these items can be reused for property staging in the future!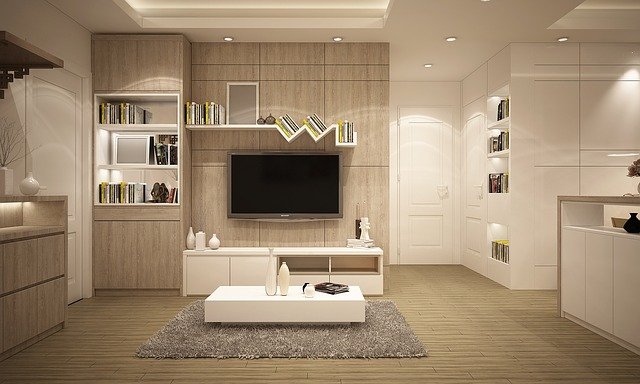 5. Add Comfortable Details
At this point, you have a clean, bright, furnished unit. What more can you do to appeal to potential residents? Add a few comfortable details throughout the home. Here are some ideas to get you started:
• Place stylish throw pillows on couches, chairs, and beds. This is a great way to give your space some personality and a pop of color and texture.
• People love plants! They bring life into any room. A fiddle leaf fig tree in the corner or a blooming orchid on the coffee table will subconsciously draw people into space. Don't worry about not having a green thumb; fake plants work just as well.
• Hang some fluffy, white towels in the bathroom. Don't forget the bath mat!
• In the kitchen, put out a bowl of fruit or a bouquet (again, the fake is subtle). Set up a cookbook on a stand on the counter. Hang a towel from the oven handle.
These comfortable details will make prospective residents feel more comfortable as they tour the property. This attention to detail will turn an empty-feeling room into a turn-key rental.
Final Thoughts
When staging for rent, do not spend too much money or time on the project. If you have multiple properties, than you can ask your property management company to handle that with the view to save your time and energy.
Keep it simple, especially in a hot market. Keep in mind you can reuse the staged unit's photos when listing the same property in the future.
All in all, staging for rent is a great strategy to use to increase your rental property's desirability. Use these five tips to make it a fast and easy process. Spend less time with your unit on the market and more time making money.
---
Ready to speak with our sales team?
Start the conversation!